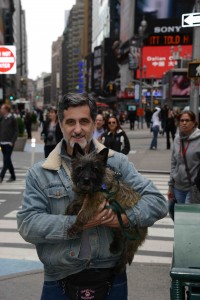 One of the delights of making Dog Dazed  was getting to meet Bill Berloni, an expert on dog behaviour, who blew me away with his generosity and kindness.
Berloni trains animals for Broadway shows (like Annie) and films (like Charlie Wilson's War). He even won a Tony in 2011 for excellence in theatre. So, he's a pretty big deal, which makes the fact that he donates his time as a behavioural specialist for the Humane Society of New York all the more special. (It also makes his generosity with us during the making of this doc all the more special.)
Bill's happy to give back to the animals that have made him who he is today because, he says, "not only do they provide me with great companionship and my career, you know, I feel like I'm doing something for society by helping the dogs who don't have a chance."
Working at the Humane Society, Bill has first-hand knowledge of why dogs end up homeless, and more often than not it's because people have chosen the wrong dog for their lifestyle, and don't properly socialise the dog they do choose. "When most people go looking for a dog," Bill told us, "they go shopping. And they're attracted to a dog for some ad they've seen or some visual idea of what the perfect dog is instead of looking for a lifetime companion."
Bill spent quite some time with us going over the mistakes people make choosing and training a dog – and how to do it right. We had originally hoped to get some footage of him and the dog he was training for the Broadway musical, The Wizard of Oz, in Times Square, but by the end of what turned out to be a long, painstakingly detailed interview, we figured we'd lost the opportunity since his schedule is always jam-packed.
But Bill not only told us he'd make the time for us to get our shot, he even drove the whole crew downtown! If you've ever tried to drive in downtown Manhattan or park near Times Square, you'll get what a big favour this was.
Bill Berloni isn't just a honey of a human, he also knows his dogs. If you're thinking about getting a dog or just want to know a little more about dogs in the city, you can benefit from his expertise with the dog selector videos that'll be showing up shortly at the CBC Doc Zone site. And, of course, watch Dog Dazed THURSDAY MARCH 21, 2013 AT 9:00 PM/9:30 NT ON CBC-TV. In the meantime, here's a little Bill Berloni hit.
-Helen Slinger