When we started research for Hold Your Fire, we looked for statistics. We found it easy to enough to find out how many interactions there are between police and people in mental crisis in Canada's major cities – police forces in Toronto and Vancouver were forthcoming with those statistics. But just try to find national statistics on how many police interactions with people in crisis ended badly! Police in every province keep records differently – and view sharing them differently too!
Simon Fraser University's Dr. Rick Parent calls the lack of national stats on police shootings of people in crisis a "sad lack of government caring." He looked at BC inquests for 2000-2009 to come up with a number: 30 shootings = 30% of police shootings over that time period were of people exhibiting "irrational behaviours."
But we needed a national number, and one that's more up-to-date. Most importantly, we wanted to see if the problem is getting better or worse.
Enter the amazing Yvette Brend. Yvette is Chief Researcher at Bountiful Films and she took on the painstaking task of acquiring and reviewing inquest records from across Canada for 2004 – 2014. She found the number per capita of police shootings of people in mental crisis is going up. Her most conservative estimate is that it stands now at about 40%.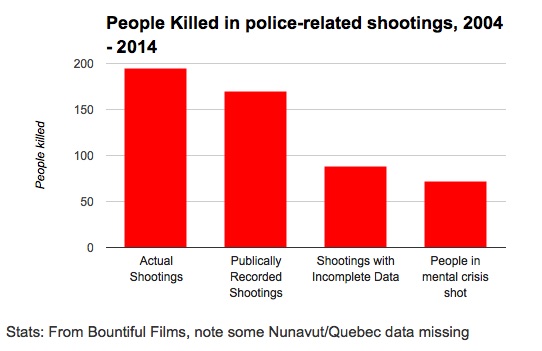 We say "about" and "conservative" because not all inquest records had detail about state of mind and also because of the variance in how different provinces keep statistics. For instance, in populous Ontario, if the Special Investigations Unit takes on a case, it doesn't provide public information on state of mind.
So we're quite sure the national number is much greater. And you'll get another perspective on just how conservative Yvette was in her calculations if you read Travis Lupick's terrific piece in The Georgia Straight. He looked at BC inquest records over five years and included addiction issues. Then the number goes up to 90%!