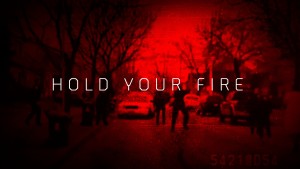 This is the documentary that was originally scheduled for broadcast in October…the day before, CBC decided to pull it because of the ongoing trial in Toronto of the officer charged in the shooting death of Sammy Yatim.
Hold Your Fire was made with the understanding that its broadcast might well coincide with the trial. Of course it was also thoroughly "lawyered" so we felt confident it was "good to go". But CBC was concerned that, as careful as we'd been, the doc was too powerful to risk the chance of jury members viewing it, against the judge's instructions to ignore all media. CBC didn't want to take any chances that we'd cause a mistrial.
Since closing arguments in the trial began today, and the jury is expected to begin deliberating late this week or early next, we are back in the broadcast schedule. Hopefully the trial stays on schedule and the doc gets on the air this time around. It's a bit anxiety-inducing for all of us involved in the production but it's quite dreadful for affected families who have to wait again to witness their loved one's story unfold on camera.
Here is the link to the CBC's page for Hold Your Fire: http://www.cbc.ca/firsthand/episodes/hold-your-fire
Tune in January 14th, 9pm to CBC TV's Firsthand.