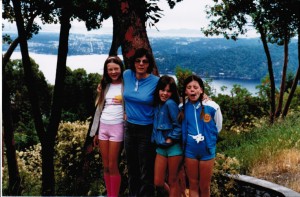 When I wrote Hilary's family to let them know that Hilary's story will be on The Passionate Eye tomorrow, daughter Jenny (who's featured in the documentary) wrote me back such a moving email that I asked her if I could share it:
"I am making up posters to put up around town telling people when it is showing!
… it is hard to miss her so much just when I finally had her, not only the really cool person to know, but the mother I'd always yearned for – but it is more our loss than hers… she had become well and happy, seen her life's work completed, and was in the place she loved best, with the person she loved most, apparently even listening to their favourite song. She was given a really hard life, and she kicked its butt! I miss the heck out of her, but I am happy for her too." – Jenny
Jenny, we'll do our best to get Hilary's story as far out into the world as we can. – Helen Slinger
When the Devil Knocks – Wednesday January 26 at 10 pm ET and PT on CBC News Network's The Passionate Eye.