British Columbians care passionately about their wild salmon – the proof was in the downpour.
Despite unrelenting rain, the Paddle for Wild Salmon flotilla grew to about 100 by the time it completed its run down the Fraser River on October 25th. And there on the beach to greet the paddlers were about 400 more, drumming and singing. It was quite the welcome for Alexandra Morton.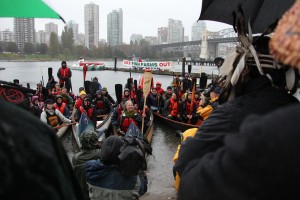 Alexandra was on her way to the Cohen Commission inquiry into what's behind BC's declining wild sockeye salmon stocks (this year's run notwithstanding). She thinks the Atlantic salmon farms have at least something to do with it, and so she'll ask the inquiry to make fish farms release all their disease stats for the last 18 years.
We have been following Alexandra since our documentary Alexandra's Echo and so we joined the escort party of 500 – up from the beach, across the Burrard St. Bridge and through the wet downtown streets. The walk may have left Helen's feet marinating in swampy sneakers, but the spirits of the crowd weren't dampened. Instead, they were bolstered all along the route, as people in cars honked their horns in support.
The hearings are on now, and you can follow the story through the links below:
Alexandra's Echo won the award for Best Environmental Film at San Francisco's 2010 Ocean Film Festival. You can view the trailer and purchase the film here.