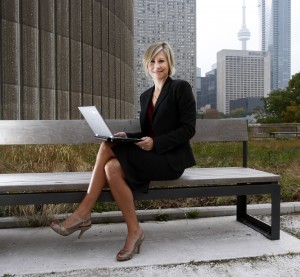 Toronto's Chief Planner Jennifer Keesmaat is not only a smart cookie, she's a tough cookie. The first day we filmed with her for The Condo Game, a biting wind and cold winter rain were driving down Yonge Street.
Given that she was on camera, she likely wasn't as bundled up as she ordinarily would be, but Keesmaat spent an hour filming with us, and unlike the crew (I speak for myself), did not complain once about the penetrating chill blowing in off Lake Ontario. She had given us this time and she was going to honour every minute of it.
In 1999 when I was a reporter for the CBC, I did a profile on a young BC MLA named Christy Clark, who was making waves in the Legislature. I was certain she would one day lead the province. I get the same vibe with Jennifer Keesmaat – smart, savvy, attractive and Hamilton-tough. You heard it first here.
– Toronto director Lionel Goddard
Co-director Helen Slinger adds: Well, maybe not very first. Keesmaat's star couldn't be rising much faster…but Lionel's instincts are often on the money.