Did an interview with Radio Canada International about Cat Crazed – RCI is the CBC's shortwave international service.
Host began by asking me whether I was a cat or bird person – he couldn't tell from the film! I took that as a compliment because trying very hard to advance the conversation about the needs of both cats and birds, not attacking either, and asking humans ultimately to take responsibility for our own behavior when it comes to welfare of all animals.
But we humans can be especially passionate about our kitties – and so it is with considerable trepidation that some cat folks await the airing of this doc, convinced I'm going to come down hard on our feline friends. Evidence of this in a National Post column thread. All I can say is: watch the film, then decide.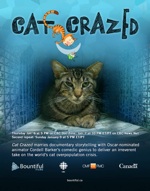 If you want to know more about either perspective, I'll point you to a few websites.
Go to Alley Cat Allies to see why this group supports trap neuter return. TNR Reality Check delivers studies that oppose this view.
Also, if you'd like more info on cat bird predation, read this article from the Fourth International Partners in Flight Conference.
And if you'd like more info on the no kill movement, check out No Kill Nation.
Here's what Larry Evans of PetLynx pet recovery had to say:
"We had the privilege of reviewing this film…and feel that it will be very valuable in terms of bringing various cat conversations together in 2011. We are thrilled this documentary premiers at the same time the industry launches the Care for Cats public education campaign. We invite you to watch this film and become involved in the conversations to improve the lives of our feline friends."
Let's talk more about this after you've all had a chance to watch the film, tomorrow night (Thurs Jan 6) 9pm – Cat Crazed on CBC's Doc Zone